KN95 Mask–Inner Nose Bridge Mask Machine
Product Description
This machine is dedicated to N95 mask making, adopts advanced high-tech, and is jointly developed by professional engineering staff. It has a 4-roll combined unwinding rack and a roll cutting integrated N95 mask equipment.
(Dont belive Fully automatic mask making machine can bring the Treasure now ! Because if you dont have professional engineer and Chinese engineer can't go to install at this speical time .Semi-auto no need install ,directly can put in the production .Best choice for you now ! )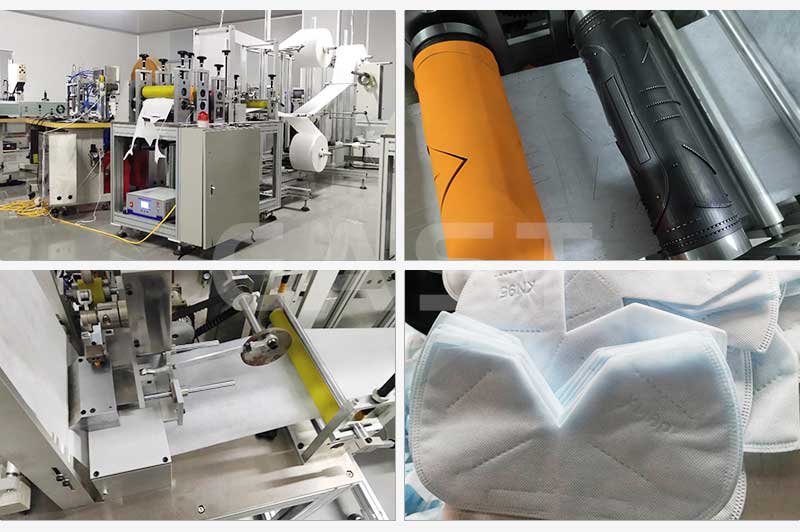 Operating procedures
Manually load the material roll of PP spunbond non-woven fabric into the material rack. First, a multi-layer non-woven fabric laminate is inserted into the conveying mechanism by an artificial leader. The conveying mechanism drives the nonwoven fabric forward, then folds, squeezes and cuts into a certain shape on the way.
Features
The main body transportation adopts high-precision servo motor, which has fast speed, smooth movement and high precision. The level of the reclaiming mechanism can be adjusted. The whole position mechanism has high versatility and fast product change. The overall equipment adopts a high rigidity structure to improve the overall stability of the equipment. 1. Aluminium alloy structure is adopted, which is beautiful and firm without rust. 2. Computer PLC programming control, high stability, low failure rate and low noise. 3. Servo motor imported from Taiwan, stepper motor drive, high precision. 4. The machine adopts pulleys and fixed feet, which is convenient and fast to move, strong in fixation and unshakable. 5. This model can be equipped with a conveyor belt to automatically collect products, with high accuracy, only need to sort and pack. 6. The equipment can be modified according to product requirements, product size, length and thickness. 7. According to different production orders, different earband machines can be configured, which is economical and practical. It thoroughly solves several major problems such as customer capital cost + floor space + staffing, etc., and truly brings rich economic benefits to customers. 8. A complete set of equipment can be provided according to the production requirements of customers.
Main Technical Parameters
| | |
| --- | --- |
| Model | GL-KB |
| Voltage | 220V / 3P |
| Servo motor | 400W |
| Ultrasonic model | 20K 2.5KW constant wave type |
| Working speed | 0-50 pieces / min |
| Gear model | D3 material |
| Machine weight | 380KG |
| Machine size | 4200mm * 970mm * 2250mm |
Main Technical Parameters