Product Description
1. Four shafts tape cutting machine
This machine is used for film, paper, masking tape, adhesive tape, double side tape, cloth tape, industrial tape, protection film,PET/PE/BOPP/PVC tape and so on .
Suitable for cutting PVC insulation tape, masking tape, double sided tape, duct tape, medical tape, BOPP tape, etc. And we highly recommend it's used for cutting small core tapes such as pvc insulation tape, efficiency is very high.
2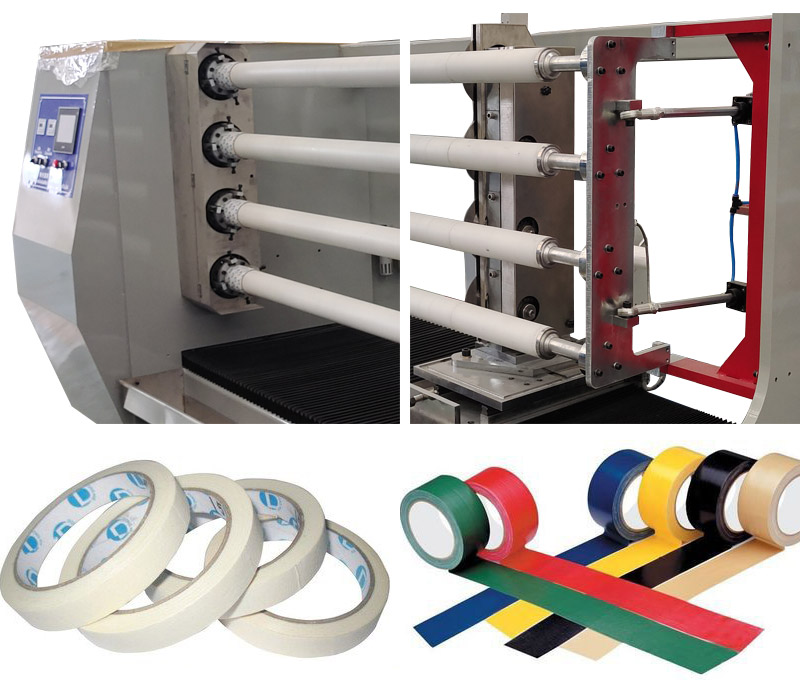 1.Main Motor: Cutting shaft and circular blade are driven by A.C motor with inverter control, which able to set RPM and running direction obverse/reserve on different requests.
2. Central Control: Central control system is CPU, which can cut various sizes on one log roll by changing modes automatically.
3. Display Mode: All functions are operated under LCD touch panel control, which is operator friendly and easy for data setting.
4. Width Setting: Width setting is controlled by servomotor with ball screw and guide rails to make accuracy movement.
5. Cutting System: Knife feeding is controlled by servomotor, which can do three-speed cutting.
6. Knife Angle Adjustment: Cutting angle can be changed automatically for making roll surface smoothly.
7. Shaft Change: Three kinds of cutting shafts for optional using on this machine, which use quick changing shaft according to different material.
Optional Parts:
| | |
| --- | --- |
| 1. Other size cutting shaft | It can be made as per the required core I.D. |
| 2. Cutting supporter | For supporting log roll when cutting core below 38mm. |
| 3. Safety cover | To protect operator during the production this is compliant to the CE regulation. |
Main Technical Parameters:
| | |
| --- | --- |
| Machine width | 1.3M / 1.6M |
| Max. Cutting O.D | 150mm |
| Inner core I.D | 1″-3″ |
| Min. Cutting width | 1mm |
Request for Quotation